Companies
Established in 1996, the Global Group brings together a network of like-minded companies and individuals focused on providing sustainable long term solutions to diverse clients around the globe.
Global Companies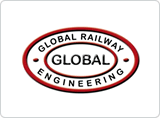 Global Railway Engineering
Global Railway Engineering focuses primarily on the international railway engineering market supplying comprehensive rail and port logistics solutions to customers in Africa and around the globe. The company has a significant Research & Development capacity which has enabled it to introduce some market leading technologies to the global railway industry.
Global Bulk Logistix
Global Bulk Logistix provides comprehensive rail & port logistics solutions to the bulk freight industry. The company offers a unique solution to private enterprises who wish to transport their bulk commodities by rail by leasing its own Rolling Stock to transport these goods. The leasing of Rolling Stock is an attractive option for clients who wish to transport their bulk goods by rail.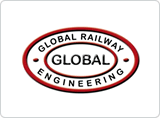 Global Worx
Global Worx is your one stop shop for the heavy fabrication of earthmoving and rail equipment. Our 8000m² factory, located in Vanderbijlpark, has all the equipment and overhead cranes to fabricate and repair any steel component (up to 70 metric ton). Not only can we supply any bucket size but we also refurbish and fabricate larger size excavators and loader buckets.
Global Civil Solutions
Global Civil Solutions is a medium-sized construction and project management company established in 1994. The company has managed a broad spectrum of projects ranging from highway construction to mining construction and infrastructure development. Global Civils has perfected a unique soil stabilising technique which enables us to use the in-situ soil to build roads.
Global Natural Products
Global Natural Products was established in 2008 in response to witnessing first-hand the debilitating and devastating effects of burns in the communities within which the Global Group of companies operates. Global Natural Products focuses on educating carers, nurses and doctors in rural areas and has introduced exciting new South African technology.
XCMG Africa
XCMG Africa is the exclusive provider of XCMG equipment in Southern Africa. XCMG is the largest construction and crane equipment manufacturer in China and the third largest in the world. XCMG Africa services the needs of the local construction industry by supplying a wide range of XCMG construction equipment as well as a full parts and after-sales service.